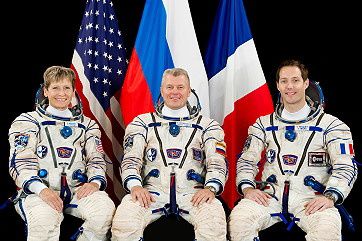 On November 19th 2016, the Soyuz MS-03 spacecraft has successfully docked to the ISS (International Space Station). Subsequently, the hatch between the spacecraft and the space station was opened at around 2:40 a.m. Paris Time on the next day, allowing the 3 crew members to get on-board the station. A total of 6 cosmonauts, astronauts and spationauts will cohabit for approximately 3 weeks until the crew of the previous mission departs for Earth in the Soyuz MS-02 stayed docked on the station for the duration of the 49th expedition.
The Soyuz MS-03 mission operations, from the rocket ignition followed by launch, to the completion of the docking operations and lasted about 50 hours: an 8 min and 48 sec rocket flight to the 200 km average altitude orbit, followed a so called "2 days rendezvous" approach.
The missions to the ISS alternate human flights in Soyuz spacecraft and unmanned space cargo (European ATV, russian Progress, Japanese HTV or US Cygnus and Dragon etc.). In average, there is a little more the 1 flight to and from the ISS every month.
About Soyuz spacecraft and rocket:
The current Soyuz MS version used for human transportation (3 persons) to the ISS weights 7 metric tons and is launched on-top a 270 tons Soyuz FG rocket. This is the ultimate evolution in the Soyuz program initiated in the early 60s to provide a manned spacecraft to the USSR; with the goal to later assemble them as a "space train" in orbit. The first test flights started in 1966 and were launched on rockets directly derived from the R-7 Semiorka, by then renamed Soyuz. Although the first missions were not successful (with particularly the death of cosmonaut V. Komarov in 1967 during the Earth atmosphere re-entry phase), the Soyuz rocket and spacecraft tandem is now particularly reliable with 82 successful missions since Soyuz T-10-1 last failure in September 1983. The achieved success rate of the actual FG rocket version developed for the Soyuz spacecraft is 100%. Nearly 1800 orbital launches have been executed by all versions of the Soyuz rockets today.
Source: Russian Spaceweb